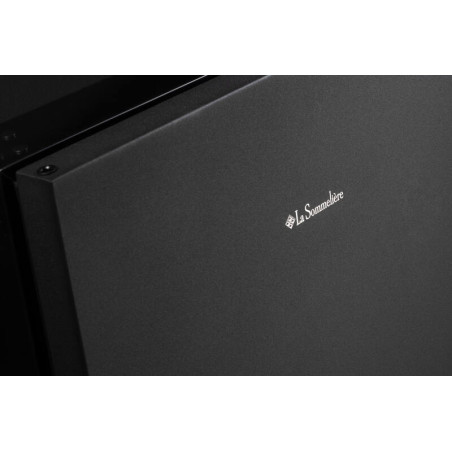  
LS18KB Serving temperature cellar with 18 bottles
New LS18KB serving temperature cellar for conditioning up to 18 bottles. Design and practical, you can set the temperature directly on the front of the door through its tactile control panel. No need to open the door!  The double glazed door catch the eye of your friends and family thanks to the wooden shelves. To discover...!
You must be logged torequest for a quote. Click here to connect to your account
LS18KB serving temperature cellar for 18 bottles
The LS18KB Serving temperature cellar is a brand new cellar in SERVICE range La Sommelière. Small footprint with its small 67cm tall and 39cm wide, you'll have 18 bottles constantly at ideal tasting temperature in your living room!
Friends and family can arrive unannounced, you can now serve them a good temperature wine anytime. Delivered with 5 fixed wooden shelves, the cellar is elegant and enable storage of 18 bottles next to you.
Its black and stainless colors, associated to wooden shelves catch the eye. The aestheticism of the cellar invites to parties with friends. If you love wine, then you certainly know that only a wine served at a good temperature reveals its true aromas (depending on type of wine : sparkling wine, a white wine, rosé or red wine).
Small conditioning wine cellar with intuitive functions
The small LS18KB cellar is powerful and easy to use. Equiped with a "Soft Touch" sensitive controls placed directly on the front of the glass door, the cellar offers the indisputable comfort of the access of settings without opening the door (and thus avoiding an unnecessary change of temperature inside the appliance). The set temperature is displayed on the screen.
You can choose to activate or not the LED lighting inside the cellar by a simple press on the switch to showcase your bottles.
Advantages of a thermoelectric chamber cellar
The thermoelectric cooling cellar, also called Peltier system, has a special feature: its lack of compressor. This induces several significant advantages on small cellars such as the LS18KB, namely:
quieter than a refrigerated wine cellar;
absence of vibration thanks to the absence of moving parts;
low maintenance required (no wearing parts);
no friogorigenic fluid.
The thermoelectric cellar is simpler in its mechanical construction than a wine cellar and therefore will not achieve the same performance. As such, be sure to install your LS18KB cellar in a room where the ambient temperature is between 18 and 25 ° C.
* Capacity defined for information with bottles of 75cl traditional Bordeaux types and calculated with 5 shelves. The addition of shelves reduces the storage capacity.
**Maximum capacity for 33cl cans without shelves.
Warranty

2 years (parts, labour and on-site support)

Range

Service

Bottle capacity

18

Cellar use

Conditioning

Installation type

Free standing

Number of compartments

1 zone

Temperature range (°C)

11 - 18°C

Room recommended for installation

Heated room (e.g. living room, dining room, kitchen)

Type of door

Glass door

Reversible door

No

Energy class

B

Matière des clayettes :

Wood (beech)

Design

Black and stainless steel

Digital temperature display

Yes

Kältesystem

Mixed

Winter system

No

Interior LED lighting

Yes

Climate class

N (16 -32°C)

Energy consumption (kW/an)

187

Noise level (decibels – dB)

42

Product category

10 (other refrigerated appliances)

Adjustable feet

4

Net dimensions (WxDxH cm)

34,5 x 51,4 x 63,6

Gross dimensions (WxDxH cm)

39 x 56 x 66,8

Net weight (kg):

14

Gross weight (kg):

16

Voltage (Volt)

220-240
15 other products in the same category: